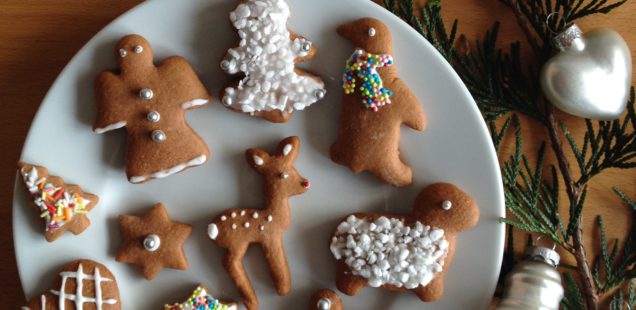 The love of baking Christmas Cookies
I just love all the festive stuff around christmas time! And I love going home for a one or even two day baking and cookie decorating session. It is just so much fun to hang out with family in pajamas and shove one baking sheet after the other in the oven.
Last year I translated this recipe for some american friends – it´s one of the best:
Vanilla-Halfmoons
Ingredients
¾ cup butter, softened
½ cup white sugar
2 egg yolks
1 ½  vanilla beans, divided
1 ½  cups all-purpose flour
½  cup ground almonds
2 cups powdered sugar for rolling
Preparation
In a medium bowl, cream together the butter and white sugar until smooth. Beat in the egg yolks one at a time. Split the half of vanilla bean and scrape the seeds; stir the seeds into the butter mixture. Mix in the flour and ground almonds. Divide the dough into two pieces, wrap and refrigerate until firm. Preheat oven to 175° C (350° F). Line cookie sheets with parchment paper. Take tablespoon sized pieces of dough and roll them into little ropes about 5 cm (2 inches) long. Bend the ropes into a half circle and place them 5 cm (2 inches) apart onto the prepared cookie sheets. Bake for 10 to 15 minutes in the oven, until lightly browned. Scrape the seeds from the remaining vanilla bean and stir them into the powdered sugar. Carefully roll warm cookies in the vanilla sugar.